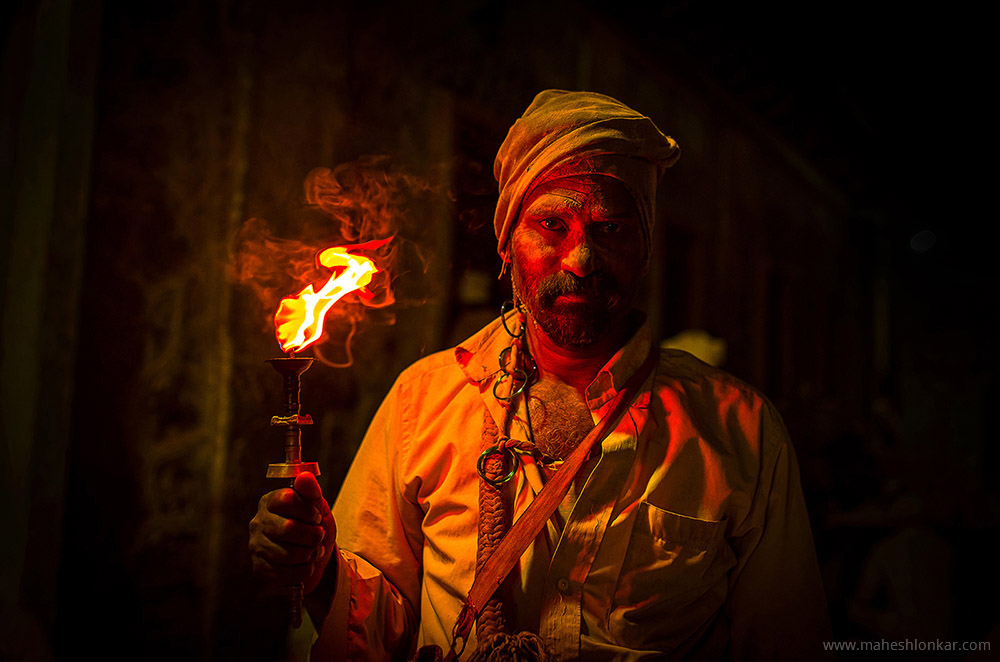 Traditional Lamp (Diwati Budali)
Jejuri is a city in the district of Pune located in the west of Maharashtra. It is well known for its myths of their god Khandoba and also has a temple dedicated to him. Khandoba is believed to be a form of the God Shivshankar. There is an abundance of culture flowing through the streets of Jejuri, and the highlights of those are the subjects of my photographs. Jejuri is a name that has evolved from Jaijai Nagri to Jejepuri and finally to Jejuri. It is believed that the hill was given the name Jaiyadri after two demons called Mani and Malla were defeated. Jaiyadri basically means the hill where victory is achieved.
Somavati Amavasya is the festival that takes place on a no moon's day that falls on Monday, which is called 'Somvar' in the regional dialect. In the course of this festival, the idol of the Lord Khandoba is moved and is taken along with lakhs of pilgrims hailing from various states to the Karha River. Here, the idol is bathed and various religious rites are performed and the idol is taken back to its original position atop the hill. The distance that is covered from the temple to the river and back is around 14 kms. It is very important for the idol to be back to the temple before the full moon ends. The devotees celebrate this festival with enthusiasm.
There are various other unique procedures involved in this festival, one of which is the fact that there are no electric bulbs or any form of electrical equipment used in the festival. The devotees carry a thick wooden pole and light it on fire in order to have visibility. The devotees have a special name for this phenomenon which is "Divati Budali". Here, 'Divati' means the fire and 'Budali' is the oil which one has to pour on the fire in order for it to keep burning properly. The devotees believe that by lighting that fire, ones problems from the past will be burned along with the fire. There are devotees who follow this tradition for a lot of years in the footsteps of their family before them.